I really, really wish that I had more discipline when it came to updating the blog!  Oh well, I'm going to change it now by letting you know what I've read in the last three or so weeks!
I have posted reviews/stars on my Goodreads feed, so if you want to know more about these books and what I thought, visit the sidebar to the right!  —>
---
Novels and "Fun" Reads
I haven't quite kept up with my Book a Day plan, but I have read some amazing books!
The Devil Wears Prada, by Lauren Weisberger – a deliciously indulgent read and different from the film.  If you liked the movie, read the book!
We Were Liars, by E. Lockhart – a twisted and turning book about a teenage girl and her crazy family.  Read this if you liked The Girl on the Train, Gone Girl, or other psychological explorations/thrillers.
Flora and Ulysses:  The Illuminated Adventures, by Kate DiCamillo – follow young Flora, her romance writer mother, crazy neighbor, odd nephew of crazy neighbor, her odd father, and a super squirrel (!) as they embark on some adventures.  Cute and engaging.  Read this if you are ready to step up from graphic novels or illustrated novels like Wimpy Kid, or if you believe in superpowers.
Nine, Ten:  A September 11 Story, by Nora Raleigh Baskin – I've never been one to read extensively about the events of that fateful September – neither fiction nor nonfiction.  However, my YA Lit social media was absolutely blowing up with reviews of this work.  I got it on release day (thanks Amazon!) and I was not disappointed.  The book follows four middle school students in the days leading up to the attack.  The book was brilliant, touching, honest, and real.  Enough said!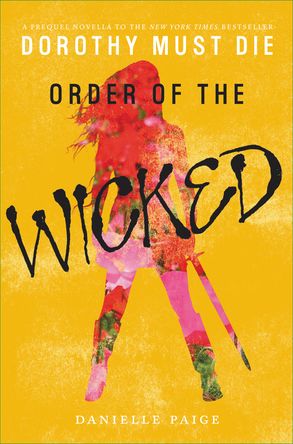 Order of the Wicked, by Danielle Paige – another prequel installment from the amazingly twisted Oz of Danielle Paige.  I can't wait for the next novel – or for her new series beginning up soon with Stealing Snow.  Read this if you enjoy twisted tales, revisits of some of your favorite characters, or if you want an intense and amazing read!
What Alice Forgot, by Liane Moriarty – imagine waking up 10 years in the future and not remembering anything in between.  That's what happens to Alice.  Moriarty takes us through Alice's life in snatched memories of the last 10 years.  A perfect summer read filled with confusion, clarity, and self-discovery.
---
Well, that's enough for now.  Check out my Goodreads feed to see the textbooks I read in the last few weeks too!
How is your summer reading going?  Let's chat!